Schedule your
eye exam
Booking your comprehensive eye exam has never been easier. Just a few quick clicks and you're good to go.
Check your insurance eligibility
Save time and money, see your price with insurance.
Just enter your personal or plan information below. To look up and apply insurance for a dependent, be sure to use his or her personal or plan information.
Discover more
Need help?
---
Discover all our accepted vision plans online and in store. Discover more
We also accept out-of-networks plans
You may also use out-of-network benefits at Targetoptical.com for most other vision insurance companies, like VSP and Spectra. You can submit the claim form directly to your insurance company. Download the form
Sit tight, we're looking for you
Success! We found you!
See below for your available benefits.
| | | |
| --- | --- | --- |
| Frames | Benefits available | Benefits unavailable |
| Lenses | Benefits available | Benefits unavailable |
| Contact lenses | Benefits available | Benefits unavailable |
| Eye exams | Benefits available | Benefits unavailable |
We found you in our system.
But it looks like you have no benefits available at this time...
| | |
| --- | --- |
| Frames | Benefits unavailable |
| Lenses | Benefits unavailable |
| Contact lenses | Benefits unavailable |
| Eye exams | Benefits unavailable |
No benefits? No worries.
Something went wrong
Too many failed attempts.
For your security, we've temporarily blocked your insurance look-up function.
Try again in 60 minutes.
Need help?
---
Discover all our accepted vision plans online and in store. Discover more
We're having trouble finding you
Make sure what you entered matches the insurance information on file. For your security, you will have to look up your insurance benefits. For help call, 1-877-848-8476
Need help?
---
Discover all our accepted vision plans online and in store. Discover more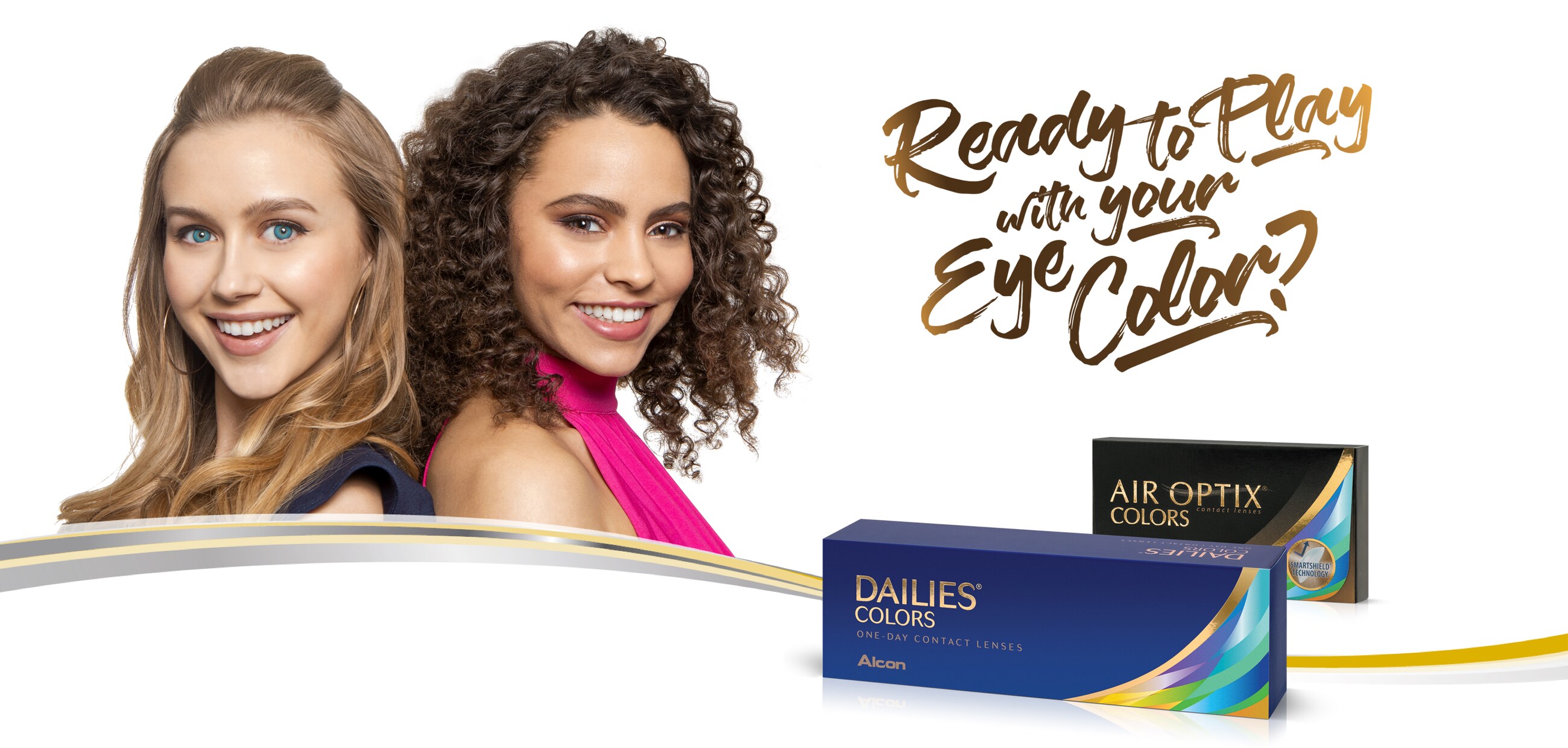 Go bold with Alcon color contact lenses
Check out all the color variations and start switching up your style.
Whether you need vision correction or just want to change your eye color, have fun playing with your look every day!
Free trial
First time using color lenses?
Try them out for free, thanks to our limited time offer in store.
Follow these easy steps:
Try out all the Air Optix® Colors
From brilliant blue to gemstone green, discover all the different hues. Just choose a photo on the left and click on a contact lens to see the difference.
Looking for more colors?
Enhance your beauty with four new
DAILIES® COLORS!

Mystic
Blue

Mystic
Green*

Mystic
Hazel

Mystic
Gray
Have a question about our color lenses?
Take a look at our FAQs
What are AIR OPTIX® COLORS contact lenses?
AIR OPTIX® COLORS are color contact lenses designed to enhance or transform dark or light eyes, with a completely natural effect, and can be prescribed with or without vision correction. They are made with exclusive SmartShield®Technology and feature 3-in-1 color technology to blend naturally with the color of your eye, so you can experience a new look that can be subtle or vibrant.
Do I need a prescription to wear AIR OPTIX® COLORS or Dailies® Colors contact lenses?
Yes. Contact lenses are medical devices that should be fitted by a licensed eye care professional, even for people who do not need vision correction. Schedule your eye exam now.
What color contact lens will look good on me?
While we love all our color contact lenses, your look is up to you! That's the fun of color contact lenses, they let you play with and enhance your already fabulous style.
What's the catch with the free trial?
Because contact lenses are a medical device, you will need to be seen by a licensed eye care professional, even if you do not need vision correction. The cost of your eye exam can vary, so be sure to ask your local Target Optical Team Member for more details Find a Store. Other than that, you're all set! Print off your Free Trial certificate when you come in for your exam and we will take it from there.
What if I already have a prescription for another Air Optix® or Dailies® contact lens.
Do I need another prescription for colors?
We do ask that you have an Rx from your optometrist for Air Optix® Colors or Dailies® Colors. But not to worry, we will take care of everything when you come in for your contact lens fitting.
How much do color contact lenses cost?
It depends on what you decide to get! We offer a variety of replacement schedules (dailies or monthlies) as well as pack sizes to fit YOUR needs. And remember, whether it's by using our Instant Savings, vision Insurance Benefits, or your 5% RedCard discount, our Target Optical team members will make sure to find you the best deal for you.
pupillary distance
what is it?
Pupillary distance measures the space (in millimeters) between the pupils of your eyes.
where can I find it?
On previous eyewear receipts or your prescription. Or measure it yourself with our handy PD ruler.
download PD ruler
I have two numbers for my PD...
Don't worry. Some doctors take your distance for each eye. Your just a simple equation away from your pupillary distance.
1.Add the two numbers
The first step is to add the numbers together. We recommend a calculator because no one's perfect.
2.Divide by 2
Once you have the two numbers added together just divide them by 2 and that is you're pupillary distance!
Double check your number and then enter it in the pupillary distance field.
Paying in installments
Want to spread out the cost of your order with Target Optical?
Select 'Affirm' or 'Afterpay' as your payment method at checkout
to pay in interest-free installments, with no hidden fees.
With Affirm, pay in 4 interest-free installments every 2 weeks, or pay in monthly payments spread out over 3, 6, or 12 months. Payment options are offered by Affirm and are subject to an eligibility check and may not be available in all states. CA residents: Loans by Affirm Loan Services, LLC are made or arranged pursuant to a California Finance Lender license.​
With Afterpay, make 4 interest-free payments, every two weeks. You must be over 18, a resident of the U.S., and meet additional eligibility criteria to qualify. Late fees may apply. Click here for complete terms. Loans to California residents made or arranged are pursuant to a California Finance Lenders Law license.