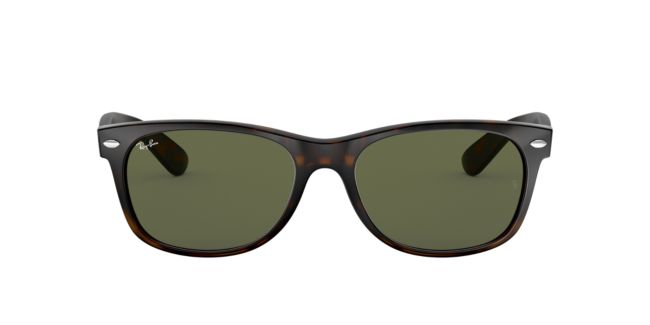 New Wayfarer® sunglasses from Ray-Ban® are a slightly smaller version of the iconic Wayfarer®. This softer eye shape provides a retro look for a variety of face shapes.
Ray-Ban RB2132 Wayfarer
frame fit
Normal
gender
Unisex
collection
Retro, Top Rated
material
Plastic
lens color
CRYSTAL GREEN
depth of frame
37.40
lens information
Rx and progressive available
frame dimensions
| lens | bridge | temple |
| --- | --- | --- |
| 52 | 18 | 145 |
| lens width | bridge width | temple length |
Rated 5 out of 5
by
Willllllllll
from
Best Glasses Ever
This is my first pair of Ray-Ban's as well as my first pair of sunglasses in the triple digit price range (all I've ever owned are the cheapies you can buy in the mall). These are hands down the best sunglasses I've ever owned. They are well worth the hefty price-tag, which isn't even bad considering the other options out there. They look great, feel great, everything looks great through the lenses, and they are very durable. I can't see myself ever wearing cheap sunglasses again, unless I'm going to the pool or something. I didn't know how beautiful the world was until I saw it through my Ray-Ban's. 100% Satisfaction!
Date published: 2011-07-23
Rated 5 out of 5
by
wthii
from
Can't go wrong with Wayfarers!
I've owned many pairs of Wayfarers, and, for some reason, these seem to be the best. I have the RB 2132 New Wayfarer 902/58 polarized. The fit is perfect and they're dark enough but not too dark. It appears the tortoise pattern in the frames corresponds to that of my last pair, which was marketed at the time (around 2005) as being some sort of "alternative" or "bold" tortoise pattern. The pattern doesn't matter to me much, but I've always liked the wayfarer sunglasses because of the substantial frames. I'll gladly purchase this model again if mine are lost, damaged or stolen, provided Ray Ban doesn't cancel the model. Please, Ray Ban, don't cancel the model.
Date published: 2011-08-13
Rated 5 out of 5
by
chris10
from
Classic and Comfortable
These New Wayfarer sunglasses are my favorite pair of shades that I have owned so far. I love that they are timeless and will never go out of style. They fit my face perfectly and are comfortable enough to wear all day long without getting a headache. I think they are great for any face size, but especially perfect for those with a smaller or more narrow face. They also look equally great on men and women. They do let in a little more light on the sides, because they are not curved like the sunglasses I have worn before. However, it didn't take long to get used to at all. They are great quality sunglasses that I plan to wear for a long time.
Date published: 2011-07-19
Rated 5 out of 5
by
chillinthemost
from
back for another review
So I picked these up to add to my Wayfarer collection. I actually prefer these over the RB2132 52. These Wayfarers just have a better fit than the 52's they don't feel so small, if your going to go with the New Wayfarer's go with the 55's unless you have a very small face. Not that the 52's are bad it's only 3mm difference but I would prefer these over the smaller 52's, theses feel more adult and not so much a child size, passed the 52's onto my daughter for her first pair of Ray Bans.
Date published: 2012-09-20
Rated 4 out of 5
by
Evan
from
Wayfarer Sunglasses
I have had my wayfarers for about a year and a half and have so far had no problems with them at all. With a sturdy frame and durable lens, this pair of sunglasses is perfect for anybody who is looking for a pair to wear when lounging around, wear hiking, or go out boating in the afternoon (just be careful not to drop them overboard). Overall the only complaint that I would have with any pair of Ray Bans is the case. My case seems to break just below the metal button with every pair I've bought. The black leather seems to be much sturdier than the brown leather, but still has the same problem after a few months to a year. Hope this was helpful!
Date published: 2011-09-16
Rated 5 out of 5
by
TheWayfarer
from
Great glasses, even better company
This was my 2nd pair of these exact glasses, as I lost my first pair of a year and absolutely needed another pair. I would buy them again too. They are durable, especially on the frames, they are not cheap like other knock-offs. Basically there is a reason they are pricey, but if you plan on having them for a while it is a great investment. But better yet is the fact that just a few days after I got them I dropped them and chipped the glass (which I didn't know was possible, as I had never done so in the year with my previous pair). I took them back to the sunglasshut and they handed me a new pair on the spot no questions asked. GREAT BUSINESS.
Date published: 2011-07-19
Rated 5 out of 5
by
BanGeek
from
Love Them
I bought of these Ray-Ban's in the spring of 2014... I have over 20 pairs of sunglasses... Most of them are Ray-Bans... This particular pair are by far my favorite and I wear them more than any other pair that I have... I love the lens color and frames... The clarity when wearing them are among the best... I would suggest these to anyone that likes a classic, updated look...
Date published: 2015-11-12
Rated 5 out of 5
by
chadillac2000
from
The Total Package
These are my second pair of Ray-Ban Wayfarers I've purchased from Sunglass Hut. A few years back I had a pair and loved them. Since then they've been lost and I've tried other brands and styles but always wish I had my old pair of Wayfarers back. So at the beginning of this summer I decided to splurge a bit and purchase the classic black polarized version. I have worn them daily since. They're lighweight enough to not even notice you have them on. Because of their weight you can wear them for longer periods. They also are very sturdy and durable. Hopefully I won't lose these, but if I do i'll be sure to replace them with another pair.
Date published: 2011-09-15
Ray-Ban RB2132 Wayfarer
Color: Tortoise
Loading