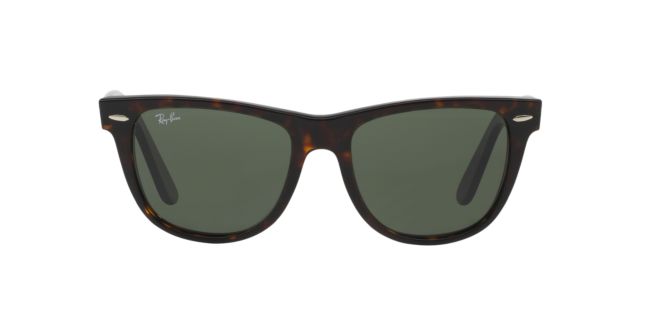 zoom in/out
rotate
full screen
The distinct shape of the Wayfarer® from Ray-Ban® has been an all-time favorite for over 50 years. Its array of color choices allows the wearer to express their style and personality.
Ray-Ban RB2140 Wayfarer
frame fit
Normal
face shape

How do I find my face shape?
gender
Unisex
collection
Retro
material
Plastic
lens color
CRYSTAL GREEN
depth of frame
40.70
lens information
Rx and progressive available
frame dimensions
| lens | bridge | temple |
| --- | --- | --- |
| 50 | 22 | 150 |
| lens width | bridge width | temple length |
Rated 5 out of 5
by
Kent
from
Endless Style
This is my third pair of Ray Ban Wayfarers, my first pair polarized. Wayfarers are one of the most known and popular sunglasses ever. They feature quality acetate frames with glass polarized lenses, making them very durable and appreciated. I have owned many brands of sunglasses and many different styles but no matter what, I always end up going back to my ray ban wayfarers. This will always be my favorite style and brand, and they are even better with the glare cutting polarization. These sunglasses are well worht the money as they will last years. I have made many purchases with sunglass hut and always top notch service and quality, one of the only sunglasses distributor I trust other then straight from the manufacturer. Great company, great service, great sunglasses. Always recommended.
Date published: 2012-02-08
Rated 5 out of 5
by
corposant
from
Great classic sunglasses with polarised lenses.
These Wayfarers are ideal since they are smaller, and they fit my face a great deal better than the larger version. It features polarised lenses, which are the best type of sunglasses to have. Nothing compares to polarised and after you've had them, you won't approve of anything less. I would have given them a perfect score, however, I think for something so exorbitantly expensive, one should receive a much better case. Mine is already falling apart and I just purchased these in June. For the price, the case should be made of leather in my opinion, hence one would get what one pays for.
Date published: 2011-10-10
Rated 5 out of 5
by
JorWor
from
Best Pair I've Ever Owned
These are definitely the best pair of sunglasses I have ever owned and they are totally worth the $150! At first, I wasn't really one to spend more than $20 on sunglasses, but this pair of sunglasses has changed my mind completely. I've had my pair for around FIVE years now and still, they are my favorite sunglasses and still are in perfect condition. They match with anything Im wearing and work for any occasion. Not only that, but the sunglasses feel sturdy and I don't feel like Im going to break them when putting them on. These are definitely a MUST HAVE. You cant go wrong with these.
Date published: 2014-03-11
Rated 5 out of 5
by
Dwaine
from
Awesome classics
I've always been an Oakley fan, but I decided I wanted to purchase a pair of classic shades to wear while out and about. My wife is an Aviator fan and the quality of Raybans impressed me. After much consideration and research, I decided to go check out the Wayfarers. I spent 20 minutes trying on the different Wayferer styles. As good as the New Wayfarers were, I couldn't resist the history and classy look of the Original Wayfarers. The heavier frame and glass polarized lenses are the best feeling, best looking, best performing sunglasses you can get. They look great with any outfit and are perfect for any occasion. They are the most recognizable eyewear around. Sunglass Hut is the best place to purchase any shades with their 90 day return policy and great customer service. I highly recommend these glasses for both looks and quality.
Date published: 2015-06-22
Rated 4 out of 5
by
seaners06
from
people look at you special
Great ray bans rb 2140 i purchased two months back. They fit perfectly on my face. People look at me and say "hey hollywood boy whats up". Sure it's awkward and stuff but it's funny. Anyways there is one thing i really do not like about the rb2140 model is that lets say your checking them out you purchase it your so hyped up and don't realize that there is a manufacturing defect on them. such as the legs of the shades. one straight and the other one curved up in a fetal position. I had to return them twice so i can get the one that fits me how it suppose to. other than that great classic lense and one thing please don't sell the shades with the scewed up legs... please.
Date published: 2009-04-06
Rated 5 out of 5
by
Nick
from
Great Sunglasses...
The Ray-Ban Wayfarer first manufactured in 1952 is the epitome of space age technology and had a radically new shape, a mid-century classic to rival Eames chairs and Cadillac tail fins, the world wasn't ready for these things and these beautiful sunglasses still aren't ready for the world. They represent the sort of AmeriCANa look classic and resourceful yet still cool and inline with the rock and roll age they were designed for. Many still are hesitant to rock this look but they simply look good on anybody and have stood the test of time, great sunglasses for anyone.
Date published: 2011-02-17
Rated 5 out of 5
by
mumbles
from
polarized
Man it's about time. I have worn Wayfarers since high school (60s) and have wanted you to make these with polarized lenses forever. The Wayfarer is by far the toughest pair of sunglasses made and if for no other reason than that they have been well worth the $$. I have dropped them, sat on them, cows have walked on them and they keep on ticking! Now I can fish in them since you finally came across with the lenses. Thanks and I will keep on wearing them...I'm 62 now so don't quit me now!!
Date published: 2011-09-16
Rated 5 out of 5
by
Ec2Win
from
RB2140 50 Wayfarer Polarized
since high school, I wore RB wayfarer, 22 years later, still wearing wayfarer, recently broke my 2008 wayfarer, sent it to Luxottica, today I received my new RB2140 50 Wayfarer, but this time it's POLARIZED, thank you Luxottica for understanding & giving it to me @ a discounted price, btw to describe the sunglasses, I will qoute my 12 year old daughter, " Dad, it's so Beast " P.S. Ray Ban, thank you for keeping the original stlye & look of the Wayfarer, if it ain't broke, don't fix it
Date published: 2011-09-29

Ray-Ban RB2140 Wayfarer
Color: Tortoise
Loading