Best Seller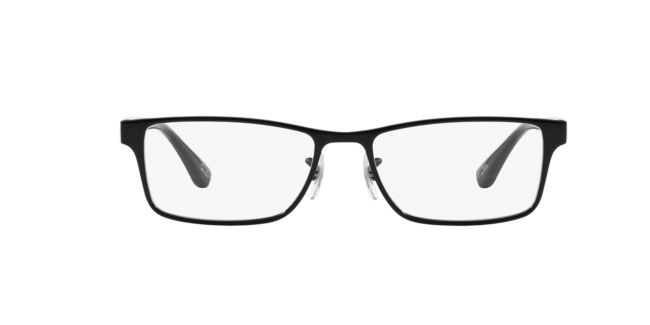 zoom in/out
rotate
full screen
This stylish rectangular frame from Ray-Ban® features a flat metal design with sleek temples. Adjustable nose pads and spring hinges offer a comfortable fit.
Ray-Ban RX6238
frame fit
Normal
face shape

How do I find my face shape?
gender
Men
collection
Top Rated, Highstreet
material
Metal
pupillary range
54-74
depth of frame
32
lens information
Rx and progressive available
frame dimensions
| lens | bridge | temple |
| --- | --- | --- |
| 53 | 17 | 145 |
| lens width | bridge width | temple length |
Rated 3 out of 5
by
JTFazz
from
Attractive but uncomfortable
I bought these frames trying to update my image with something a little more stylish. Mission accomplished. However, the frame front is metal while the temple pieces are plastic. Not a problem from a durability standpoint, but the metal front makes them front heavy and the nose pieces dug into my nose to the point of causing the skin to break. Even after a year and adjustments of the nose pieces, the skin on my nose would still break after a couple of days. I had to use unattractive nose pads and coat the area with liquid bandage to protect it, otherwise I couldn't wear these more than a couple of days. Also, I just cannot find a pair of glasses with curved temple pieces that are long enough. The 145mm length is just a bit short and I have to use Wedgees to keep them from falling off. It's time for a new pair and I will not make the same mistake. I will either go back to Oakley no rims or maybe roll the dice with a pair of total plastic (acetate) Wayfarers.
Date published: 2014-06-25
Rated 5 out of 5
by
NickCarriere
from
Nice Glasses
These are great glasses, I have gotten lots of compliments about them. Although the glasses are a little heavier than most, I feel that it keeps them on my face better. They are great quality and I am very happy with these glasses. I used to wear rimless glasses then switched to half frames then to these. Going from the rimless to half frames the skin on my nose did "break", but going from my half frames to these, there were no issues. Very happy with my purchase, and would recommend them to anyone.
Date published: 2015-01-07
Rated 3 out of 5
by
jessy2112
from
Look great, a little heavy
These frames are a lttle funky and classic. They look great with a more edgy style... One caveat, they are a little uncomfortable and weigh in at .08 lbs (a bit heavy for all day wear.) Going back for another adjustment before I return them for lighter frames.
Date published: 2013-11-08
Rated 5 out of 5
by
jjtharakan92
from
Best glasses ever
I never had glasses more than 2 years but this frame is worth it. I had this over 3 years now and i'm still using it daily. Love it.
Date published: 2016-08-10
Rated 5 out of 5
by
Salo
from
Comfortable and Heavy Duty!
Have a nephew that just took them off me and overstretched them but it didn't do anything to them, I thought that was awesome. On another instance I rode the Riddler on Six Flags over Texas, I placed it in my right pocket so as to avoid it flying off, wasn't counting on the ride to be so fun that I was dangling my legs like crazy. It wasn't until I got off that I realized the loud clank I heard mid throughout the ride that I was missing my glasses. Apperantly the force with which we were being swung took a hold of my slipping glasses off my right pocket and landed right in the middle of the whole ride. I was able to recuperate it, apparantly expecting them no to have survived, but, alas!, they made it out alive sadly enough with a small crack on the right arm close to the glass. It was uncomfortable but not that noticeable, took it back to Target and for $20 dollars, got it replaced! Of course, I insured it through them on the moment of purchase, was very happy that I did! Awesome glasses!
Date published: 2016-11-17
Rated 5 out of 5
by
Aloisia
from
Fabulous Frames
I have been wearing my new glasses for about two months now and I have absolutely no complaints. Needed a couple of adjustments of the nosepads but other than that no issues at all. They feel really good, the lenses are awsome and the service received was/is excellent.
Date published: 2017-01-23
Rated 2 out of 5
by
Dennie
from
Good but could be better!
Love the Frames but not a good fit for the lenses that I had put in them. Far too narrow for progressive lenses. You have to tilt your head down for viewing. I use them primarily for driving and my neck gets sore after a while.
Date published: 2016-12-20
Rated 3 out of 5
by
Mark RN
from
Pinching nose, sore ear
Very happy with the lens & frames, but been in several times for adjustments of nose pieces & reposition of the frames over the ears with limited success, been > 6 weeks, still trying to acclimate, will continue to persevere.
Date published: 2017-02-17

Ray-Ban RX6238
Color: Black
Loading