1 of 3 of 3 available contact lenses
Browse by:
Brands filter

Lens Type filter

Manufacturers filter

Avaira 6pk
Avaira contact utilizes Aquaform Technology, delivering a lens that is soft, smooth, and comfortable. Learn how Avaira contacts can improve your vision!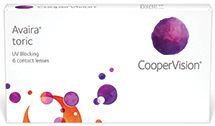 Avaira Toric 6pk
If you have astigmatism, Avaira toric contacts can help. Using a multifaceted design, your lenses will be stable, comfortable, and meet your unique needs.
Loading