1 of 2 of 2 available contact lenses
Browse by:
Brands filter

Lens Type filter

Manufacturers filter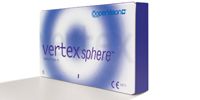 Vertex Toric 6pk
Vertex Toric contacts for astigmatism ensure that your vision and comfort are consistent and high quality. Learn how these contacts can help you.
Vertex Toric XR 6pk
Even with astigmatism, Vertex Toric contacts can help improve your vision, providing stability and less rotation. Vertex Toric provides both quality and comfort.
Loading