1 of 3 of 3 available contact lenses
Browse by:
Brands filter

Lens Type filter

Manufacturers filter


Biotrue Oneday 90pk
Biotrue Oneday contact lenses are designed to moisturize your eyes, keeping your vision comfortable and clear. Learn how to order here!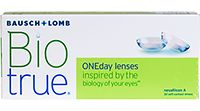 BioTrue Oneday 30Pk
BioTrue 1-Day 30Pk contact lenses are convenient and easy to use. Order now!

Loading